This blog started off as a basic guide to all lingerie, but it struck me that I could write posts and posts on different lingerie, so lets go back to basics; suspenders belts and girdles.
Before one can even think of buying lingerie, one has to ask herself, "practical or pretty?". The word "practical" can send shivers down her spine, however, help is here! I know you! You want something to wear everyday, something that will hold up your stockings, pull you in and sit comfortably. BUT, it must be pretty. Gosh, what a problem! However, I find the practical lingerie perhaps the most satisfying underwear to get right!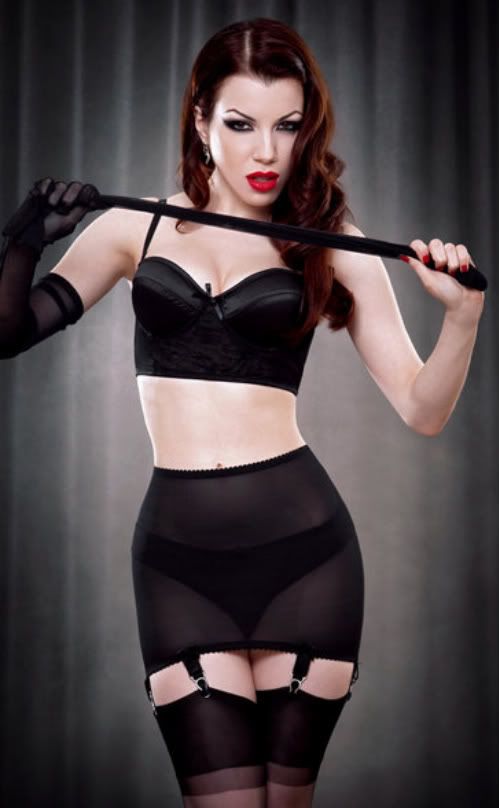 Roll on Vargas girdle by Kiss me deadly, sold by LaMagia.co.uk £25
A good suspender belt or girdle is essential to any pin ups wardrobe. Let's face it seamed tights (tried and tested!) just don't keep seams in place and there is nothing like the vintage feel of stockings. The hunt for the perfect suspender belt can be a chore, one would think spending good money in some where like Agent Provocateur would provide a decent suspender belt: WRONG. Painfull, but true, even expensive brands can deliver flimsy belts made only for "bedroom use". In all honesty the quality of the belt is comparable to Ann Summers. This is not to say I dislike Agent Provocateur, but that's a whole different blog post!
When looking for a good belt, it is important to look for the following;
- Six or more suspenders
Never go for the four strap option, four straps scream "bedroom use" and low durability.
- Metal clips
Don't pick plastic, again plastic are not durable on a day to day basis.
- A good fit
It sounds obvious, however buying a belt that is too loose will just pull your stockings down. No one wants to feel self conscious that any minute their stockings will fall. Pick a tight belt over a loose one to avoid embarrassment. Like a bra, a suspender belt will stretch with use so the tighter, the better!
Deep Harlow suspender belt by Whatkatiedid.co.uk £29.50
I favour girdles over suspender belts as they keep a tighter fit. Therefore stockings are less likely to fall. Also to add to their practicality, they can act as a more aesthetically pleasing pair of "magic knickers" or "spanx". I also feel they just look more vintage.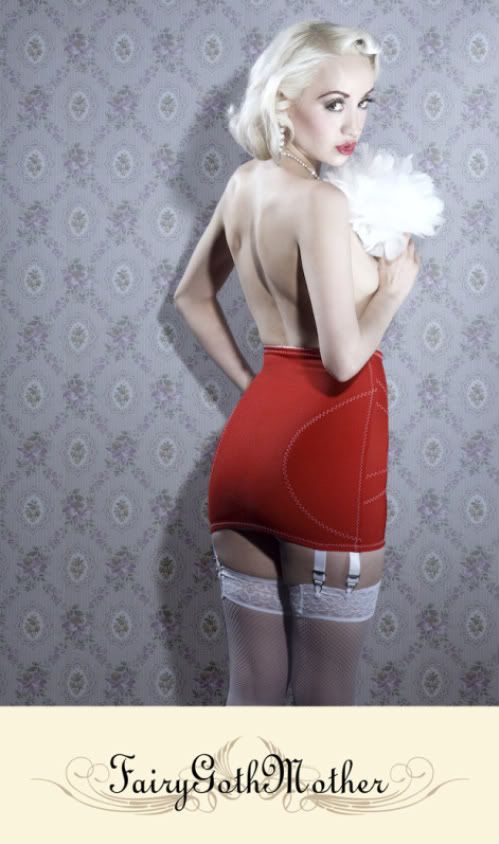 Sr-seduce girdle by Stockings and Romance for fairygothmother.co.uk
£35

As a lingerie fiend and lingerie seller, my recomended shops for girdles and suspender belts are: fairygothmother.co.uk, whatkatiedid.co.uk, lamagia.co.uk, pandoraschoice.com and opheliafancy.com.
Good luck in your hunt, I have enjoyed this post so I'm sure I'll write more about lingerie. As a corsetry assistant, I will have to write one on corsets!
Toodles!
Aimee
xxxxxxx