Inspired by other bloggers I thought I'd publish my New Years resolutions on here
1. Take swing dance lessons! Going to 40's clubs, balls and even just watching "Strictly Come Dancing" makes me crave learning to Swing Dance. I'd love to learn Lindy Hop and the Charleston! A friend of mine teaches at Passing Clouds in Dalston, I really want to go I just need to find someone to go with, I'm such a chicken!


2. Use different colour schemes, of course when watching black and white films one simply has to imagine the colours of the 20's - 40's. Some times my colours can end up quite bland e.g. mixing too much black in with every colour! So I'm aiming to use more colour schemes such as Burgundy, Brown and grey and Greens with browns and greys.
3. Blog more, me and Harriett have learnt a lot of valuable things from vintage bloggers and even vintage enthusiasts willing to share their secrets. It is my aim to share the knowledge I've been given from others.
4. Take more pictures! There is a distinct lack of photographs of us on the blog, my favourite blogs such as Vixen vintage take lots of pictures regularly. Gosh I want a SLR so badly!
I hope I can do these, they're shouldn't be too hard(?)!
What are your resolutions?
Love Aimee xx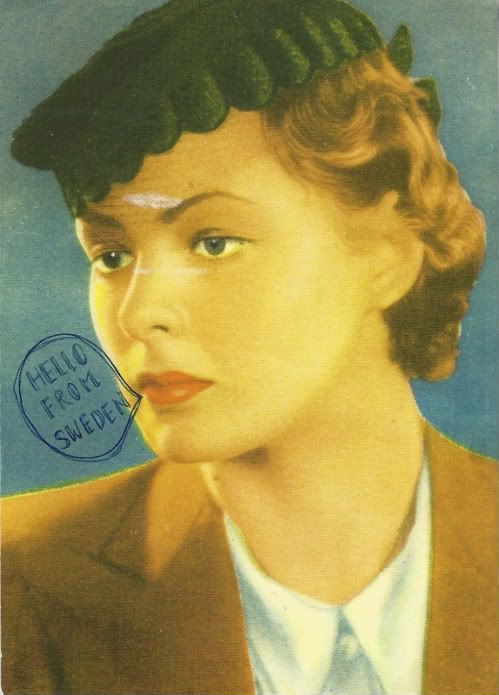 Also I got this postcard from Hattie today, I love Ingrid Bergman!
Follow my blog with bloglovin