Hello all, firstly let me wish you all a very happy new year! I'm afraid we're so busy at the moment we don't get a lot of time to blog. I have heavy deadlines running up until the 21st and Harriett has been travelling for a few weeks. I'm so sad to look at the lack of posts, however after my deadlines I can blog until my hearts content.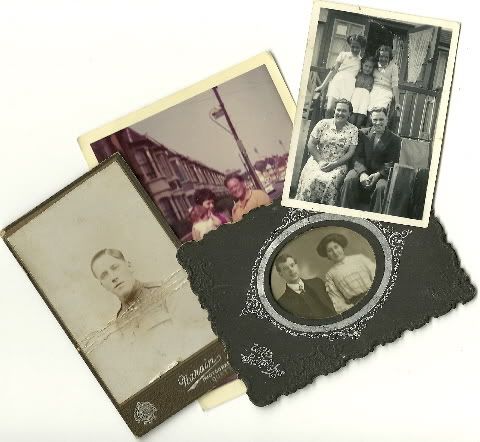 Luckily I've had some time to write this post on old family photos. I vowel to always love old photographs, my harddrive is chock-a-block with photos of old Hollywood stars and generally stylish members of the public. A little while a go my great Aunt Caroline uploaded some pictures of my Dad's family on to ye olde facebook, they were beautiful and I am currently in the process of framing the copies. However it occurred to me, I had no photos of my mother's side. So after pestering my Nanny Doreen and a short hour of scanning, I now can put faces to urban family legends, these are my favourites.
From L-R Great Granddad Tom and Great Nanny Elsie, Granddad Stan, Nanny Doreen, Great Nanny Ethel and Great Granddad Fred.
It's so rare for me to see what my Granddad Stan looked like young, he started getting Grey hair in his early 20's! I love my Great Nanny Elsie's suit.
This photograph is a particular favourite of mine as it was sent to my Uncle Rich when he was away at war, I'm sure my uncle was delighted to get a photo of this little cutie!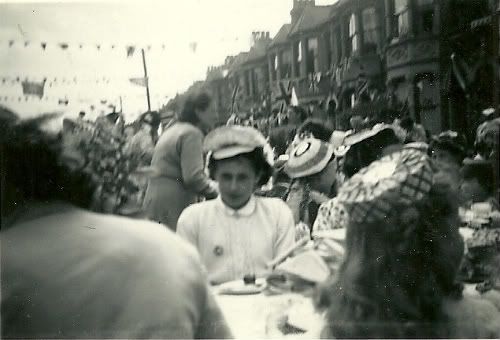 This is my Grandmother in a street party for Queen Elizabeth's coronation in '53. I love all the party hats and the lack of focus in this photo.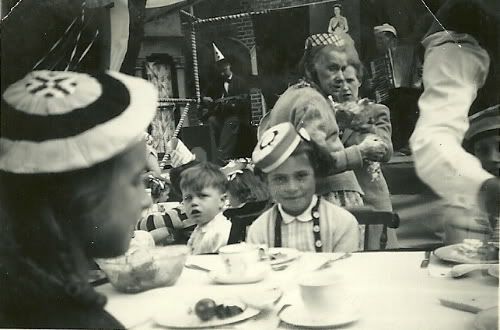 After finding the previous photo I was lucky enough to find this matching photo of my Aunt Linda, what a sweet hat! Look at that old lady in the background, just to think of the times she lived through.
Nanny Doreen and Great Aunt Linda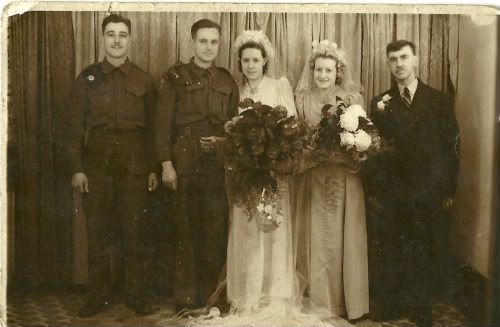 The wartime wedding of my Great Aunt Mill and her husband. Look at how dressed up the bridesmaid is!
Hope you enjoyed this post, I can't wait to start blogging regularly again!