Hello followers! It is overdue that I share with you how to do this style, I've been asked many times and have promised without result. Finally I have put together a tutorial of words and images as I'm too scared to video myself! This style is extremely simple and can be worn daily or in the evening with a cute hair clip. I've seen this style varied in many 40s photos, I don't know if the technique was the same; but the look is just as authentic.
Firstly you will need bobby pins, a tail comb, hairspray ('SILVIKRIN'!!!) and one of these bad boys.....

A 'Roly poly' in your hair colour. I found mine in 'Boots'.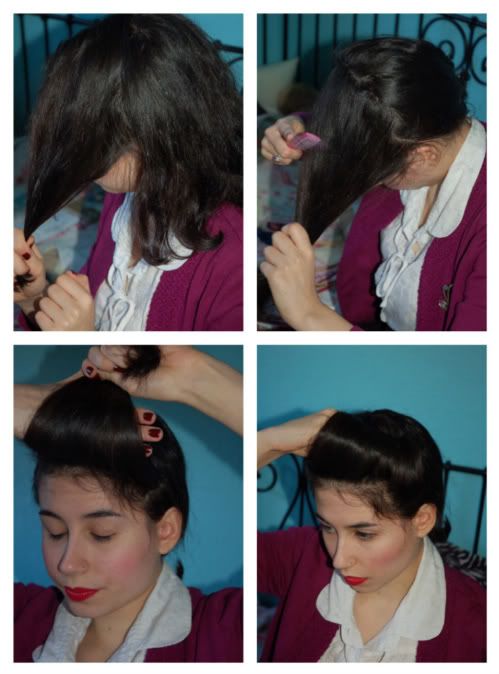 Part hair neatly on the side and hairspray the parting, a neat parting is the trick of a vintage hairstyle. Part a large section of the front of your hair for the front roll, I normally part till just after my ear as shown in the picture. Backcomb this part of your hair a little so it stays firm and tidy. Curve the hair around your spare hand, it is important to get the motion shown in the photograph. Curve the hair until you can pin it so the loose hair sits underneath the roll.
Pin the roll inside and underneath the roll and neaten up as you see fit!
Hold the Roly Poly across the lower back of your hair and pin over down hair. Then wrap the hair below round the roly poly and pin into place. Make sure the sides of the roly poly are pinned down well.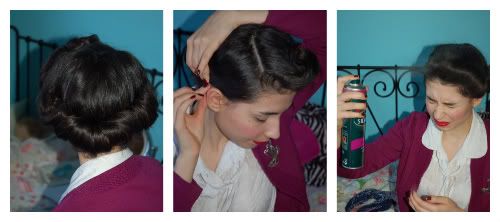 When your back roll is neat, pin bobby pins behind your ears to keep the style neat and hairspray like there's no tomorrow! I can't recommend Wella's 'Silvikrin' more, it's the best hairspray for old fashioned styles. No hairstyle cannot be achieved with 'Silvikrin'!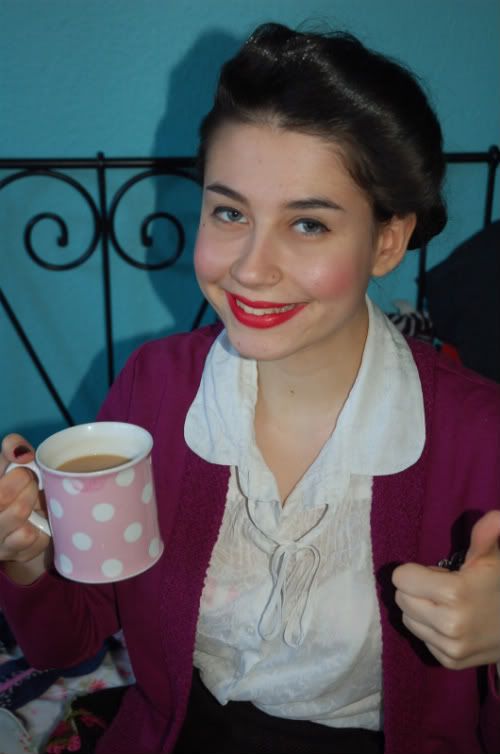 Now treat yourself to a good ol' fashioned cuppa tea!